Director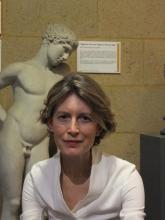 Prof Caroline Vout is a Senior Lecturer in Classics, a fellow and Director of Studies in Classics at Christ's College, and the Byvanck Chair of Classical Archaeology/Art History at the University of Leiden. She has published widely on classical art and literature. Her most recent book, Classical Art: A Life History from Antiquity to the Present, was published by Princeton University Press in 2018.
Email: cv103@cam.ac.uk
Curator
Dr. Susanne Turner
Susanne manages and administers the Museum, curates its collections, and develops the museum service.
Tel.  +44 (0)1223 335153
Email  smt41@cam.ac.uk
Education and Outreach Coordinator
Justyna Ladosz
Justyna devises and leads learning sessions for schools, organises outreach and events, and manages the volunteer programme.
Tel. +44 (0)1223 767044
Email jl2141@cam.ac.uk
Museum and Collections Assistant
Sade Ojelade
Sade runs our front of house service, including our social media, and assists Susanne with the care of the collections.
Tel. +44 (0)1223 330402
Email  fo269@cam.ac.uk