IMPORTANT INFORMATION FOR UNDERGRADUATES AND POSTGRADUATES
UNDERGRADUATES: 
Due to the effects of the Covid-19 pandemic and government guidance,  we have had to make some changes to the programme in order to mitigate against risks to health and to give you the best possible academic experience in the circumstances. We will continue to monitor and respond to the changing public health situation.
POSTGRADUATES:
The situation as of Michaelmas Term 2021, and anticipated for the near future is that:
postgraduate supervision will be delivered in person, although remote options are available;
MPhil Text and Topic seminars are conducted in person, except where there are good reasons to offer hybrid options;
language classes are delivered in person, with hybrid options where necessary;
students may access the Faculty Library freely without booking, although they are asked to distance as much as possible;
examination of MPhil language papers and any other specialist options in lieu of essays is likely to take place in person.
---
Current and incoming Classics students will find information about their degree programmes on this page.
Handbooks
The Handbooks provide general information about the working of the Faculty, the structure of the courses and the exam marking criteria:
Lecture Timetable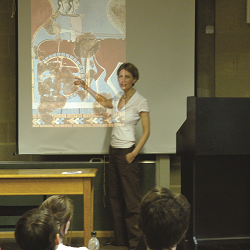 Lecture timetables can be downloaded here as .pdf files.
*PLEASE NOTE: Timetables are currently being revised to take into account recent details and updates. Up to date versions will be uploaded soon.*
The timetable will also be displayed on the noticeboard in the main foyer of the Faculty building. Any last-minute changes will be shown on the noticeboard and will also be updated on the website, so please check here regularly. Late changes will be marked in red on the timetable.
If you are interested in attending lectures in other Faculties and Departments then https://www.timetable.cam.ac.uk/ will give you information on all lectures that are held at the University, including the venue and time of each lecture. As a matriculated student, you are entitled to attend any lectures (but not classes or practicals) of any degree course.
Students wishing to attend lectures for a subject for which they are not registered will be permitted to do so only if there is room for them in the lecture theatre. Please check the details published by the Faculty or Department concerned before attending such lectures as you may be required to sign up in advance.
Courses