Lerna is a research project based in the Faculty of Classics, University of Cambridge. It is generously funded by the American School of Classical Studies at Athens and the Isaac Newton Trust. The project will run from September 2015 to August 2018.
PI: Dr Yannis Galanakis
Co-PI: Professor Martin Millett
Researcher: Dr Lindsay Spencer

The Project
Lerna, on the shore of the Gulf of Argos, is one of the most important prehistoric sites in Greece, having been occupied with few interruptions over a period of some 5,000 years, from the 6th to the 1st millennium B.C. For this reason, Lerna has become the undisputed 'type-site' and master sequence for the Early and Middle Bronze Ages on the southern Greek mainland. However, the Middle Bronze Age settlement and its associated material have never been comprehensively published.
Aims 
The primary goal of this project is to fill the crucial gap in the publication record of this key site, and contribute more widely to our knowledge of this period in Greek prehistory. In so doing, Lerna may also hold many of the keys to understanding the emergence of social stratification towards the end of the Middle Bronze Age, add a richer and more nuanced picture to the context in which the Mycenaean palaces emerged, and augment our understanding of the axes of interaction between the Middle Bronze Greek mainland, the Cycladic islands, and the Minoan civilization on Crete.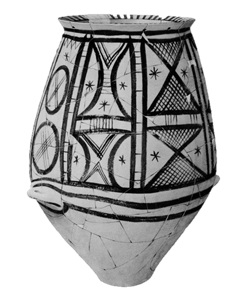 Imported Aeginetan Matt Painted 'Barrel Jar' from Lerna, a typical example of the early Middle Helladic period