In Conversation With is a new weekly series where we ask friends of the Museum to tell us about their favourite object – and what it means to them.
Third-year Classicist, Rosy Sida, takes time out of rehearsing for the Cambridge Greek Play, in which she plays Oedipus, to find strength in the winged victory figure that is the Nike of Samothrace.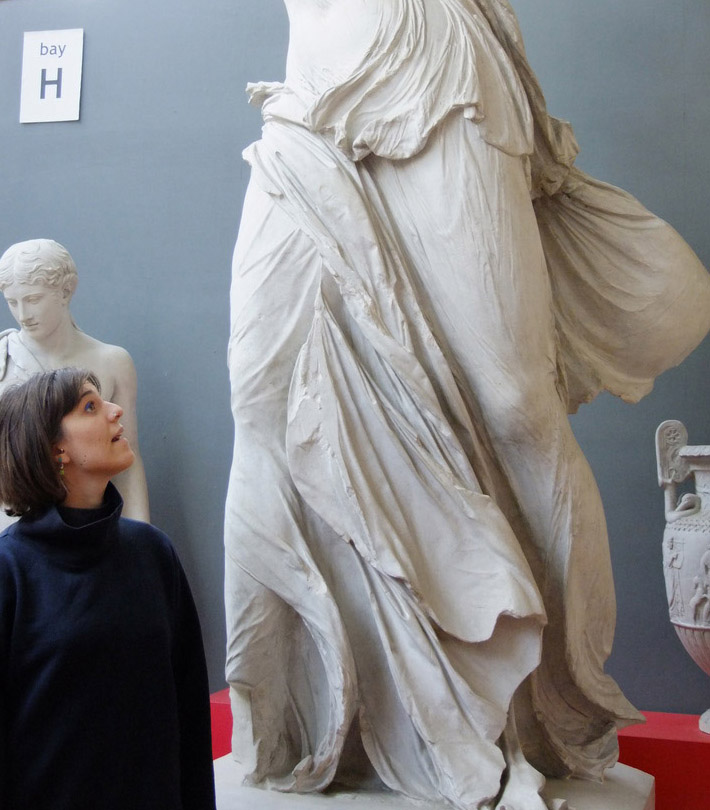 Oedipus/Rosy admires our cast of the Nike of Samothrace
'The Nike of Samothrace was the first Hellenistic sculpture which made me realise the capacity of ancient art to communicate high levels of drama, and its ability to break out of the strict confines of marble into the world of the viewer.
'I love the theatricality of this sculpture!'
Want to see the Nike of Samothrace yourself? Rosy's favourite cast can be found in Bay H.
Want to know more about the Laocoon and His Sons and our cast? Check out our research catalogue.
More In Conversation With
The Cambridge Greek Play: Oedipus at Colonus
The Cambridge Greek Play takes place very three years and is performed entirely in ancient Greek. This year's play is a modern-day version of Oedipus at Colonus, Inspired by the story of Pinochet's visit to the UK in 1998, this production sees Oedipus in his dying days in a hospital, surrounded by those he loves, those who have betrayed him and seeking the protection of Theseus, the hotshot King of Athens.
With original music from Alex Silverman and live soundscaping by Xavier Velastin using only our cast's voices, this show will be unlike any other and a first for the Greek Play.
Rosy plays Oedipus himself: blind, broken and ravaged by years of weary exile, Oedipus arrives at the sanctuary of Colonus, where the gods have prophesied he will die. About to be betrayed by his loved ones and with only hours left to live, Oedipus seeks the protection of Theseus, King of Athens.
Performance dates 16-19 October, 2.30pm & 7.45pm daily with pre-show talks before the matinee. Tickets are available from the Cambridge Arts Theatre Box Office.
Did you know the Cambridge Greek Play has been running since 1882? Find out more about the play and its history.