In Conversation With is a new weekly series where we ask friends of the Museum to tell us about their favourite object – and what it means to them.
Dita, Jazz and Ryan are in the second year of their 3-year Classics degree. Auguste, from Lithuania, is in the third year of her 4-year degree. All of them are at the same College and they are used to being taught together. They pool resources on what it is about the kouroi of Bay A that speaks to them.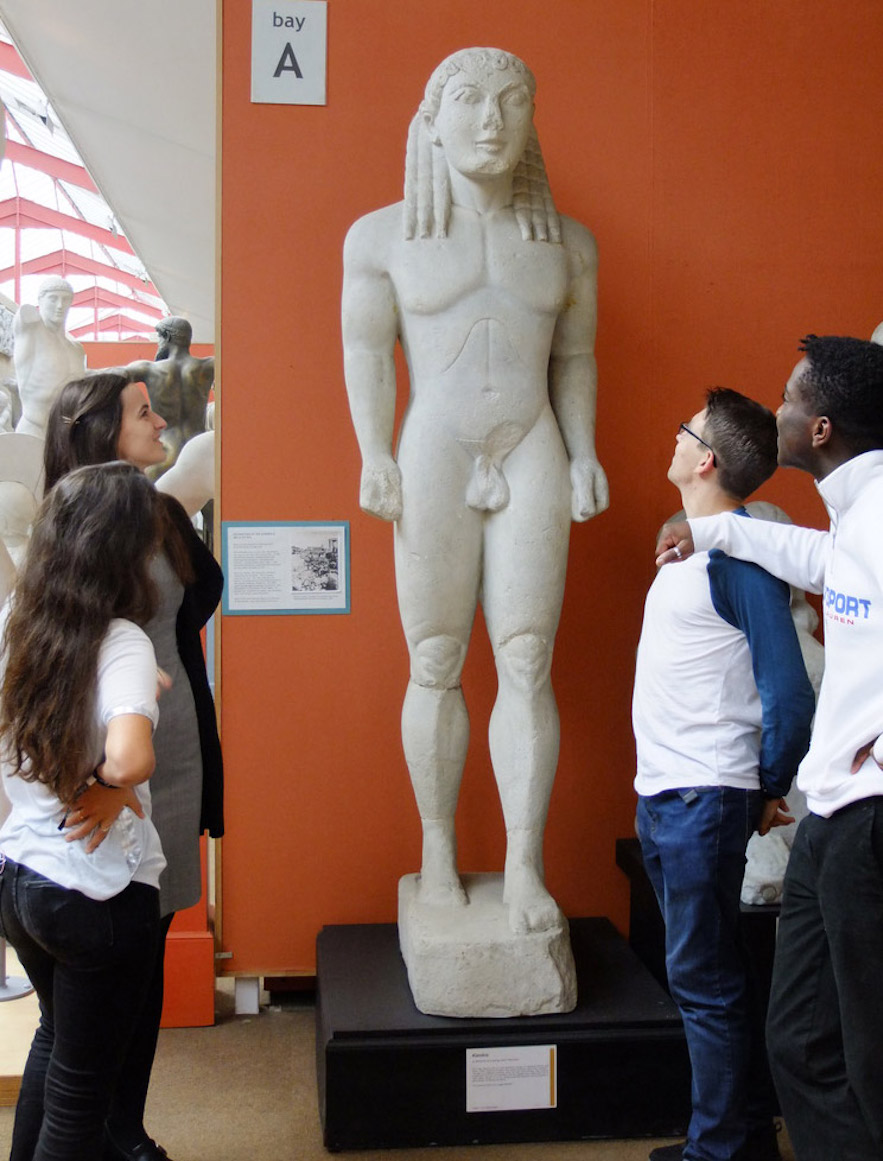 Dita, Jazz, Ryan and Auguste check out 'Kleobis', our cast of one of two matching kouroi discovered at Delphi.
Ryan kicks us off: 'Kouroi (in English 'youths' or 'boys') such as the ones surrounding us were sculpted throughout the 6th century BCE across the Greek-speaking world, where they functioned as commemorative tombstones in cemeteries, and as offerings to the gods in sanctuaries.
'What strikes me most about them is their formulaic posture. Despite varying in their size and the refinement of their features, they all stand with straight backs, their arms held rigidly at their sides with closed hands, and their left foot planted in front of their right. This stance gives a paradoxical impression both of standing still and striding forwards, allowing the kouroi to relate to observers not as individuals with their own story, as later classical sculptures do, but as 'men on a mission' nonetheless, symbols of ideal masculinity or divinity. The kouroi appear firmly frozen outside any moment in time, but offer themselves to the viewer effectively as icons.'
Auguste agrees: 'The kouroi are the first sculptures we see when we enter the cast gallery. It is easy just to go past them on route to the later, 'more exciting' examples of Greek sculpture, but if we hold on for just a few minutes, they yield more than we might think. Something eternal and timeless is captured in their smile; they 'gaze' almost as if they expect a response. This timelessness is, indeed, what I love most about them: that sculptors produced statues like this for over a hundred years can't be anything less than fascinating. Their power is in their conservatism.'
Jazz joins in: 'What stands out to me about kouroi is their sculptors' preoccupation with symmetry. Once we start looking for repeated shapes or symmetrical lines, it's hard to stop seeing them. Take the kouros that faces us in the photo: not only is its body symmetrical about its central axis, but if we look more closely, the "V" shape of its hip line is also reflected in the "Λ" shape of its chest. The curve of its eyebrows follows the curve of the upper eyelids; even each braid of hair is symmetrically sculpted.
'This kouros was one of twin kouroi found at Delphi and identified as the Argive brothers Kleobis and Biton after a story told by the Greek historian Herodotus. It is not simply that the sculptor is not interested in differentiating them one from another, it is that all kouroi look more like each other than they do real men. They are flawless. It is this flawlessness that makes them gods or heroes.'
Want to see Kleobis yourself? Our undergrads' favourite cast can be found in Bay A.
Want to know more about the Laocoon and His Sons and our cast? Check out our research catalogue.
More In Conversation With