In Conversation With is a new weekly series where we ask friends of the Museum to tell us about their favourite object – and what it means to them.
Emlyn is the son of the Curator of the Museum of Classical Archaeology and a veritable superhero in his own right. Too busy saving the world to type his own response, he dictated it to his PA who explains below.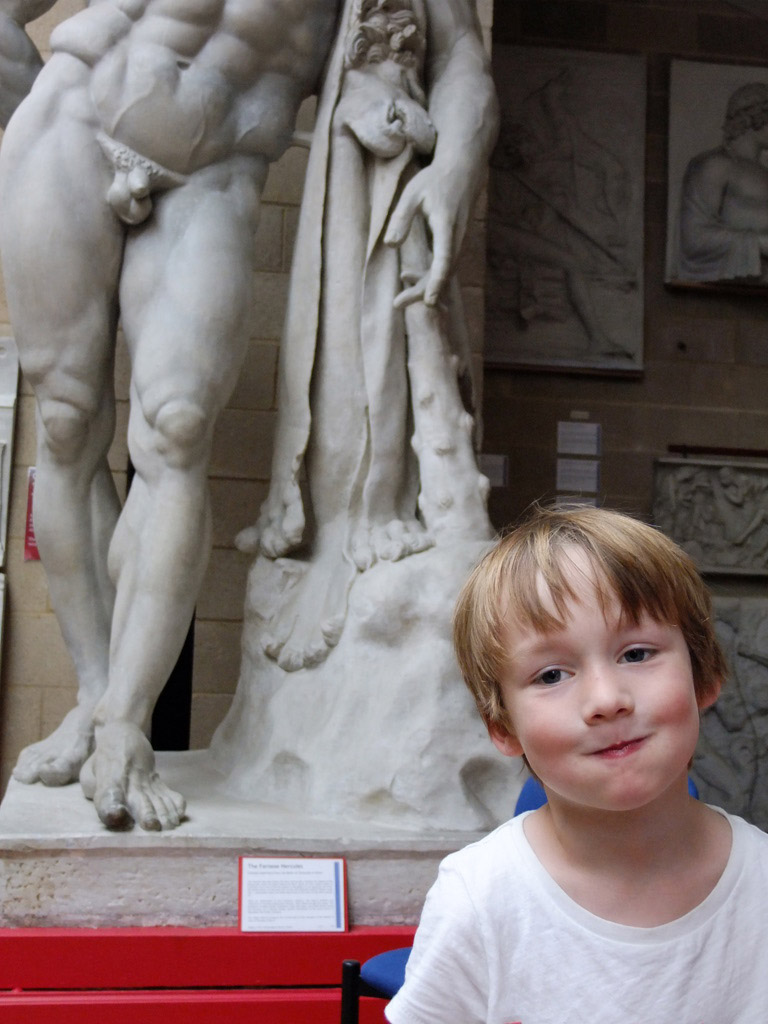 Emlyn and our cast of the Farnese Hercules
'Emlyn fell hard and fast for Hercules on a visit to an event for under-fives when he was three, via an introduction by our then-Education and Outreach Coordinator, Jennie Thornber. It was love at first sight: he was fascinated by the sheer size of the gentle giant, and his imagination was fired by the thought of him fighting and defeating monsters.
'Since then, his affection and his understanding have only deepened. He has long been fascinated by the question of who is stronger, Hulk or Hercules? Arguments have been presented, YouTube videos have been consulted, and lists have been constructed. At one point, his roll-call of the strongest heroes ran:
Hulk
Hercules (this order was disputed)
Superman
Daddy
Emlyn
'Emlyn is also a stickler for the Museum rule that visitors should look but not touch: he is at his fiercest when he thinks someone is about to grab Hercules' already dirty toe!'
Tiny Emlyn stares up at his idol. Early years is a priority for the University of Cambridge Museums: we like to get 'em young. Boxes of baby and toddler toys can be found in our Family Fun area, near the front desk. All toys have been thoroughly tested by Emlyn.
Want to see the Farnese Hercules yourself? Emlyn's favourite cast can be found in Bay K.
Want to know more about the Farnese Hercules and our cast? Check out our research catalogue.
More In Conversation With