Conservation in Action: The Bassae Frieze
Our casts of the Bassae frieze are in need of essential conservation work - it's a two-to-three week job, and we're going to be undertaking it right here, in our Cast Gallery. We'll be working with a team from Cliveden Conservation to remove the casts, strengthen them, and then rehang them with a new mounting system to prevent further damage.
It's going to be a tricky task: the Bassae casts are hung more than 3m high on the wall, and above our (very large) casts of the West Pediment from Olympia. But we'll be bringing you along with us. Book a ticket (lockdown permitting, of course) to see the conservation work for yourself or keep up to date online: we're going to be posting updates here and we've got a number of online events planned to keep you in the loop.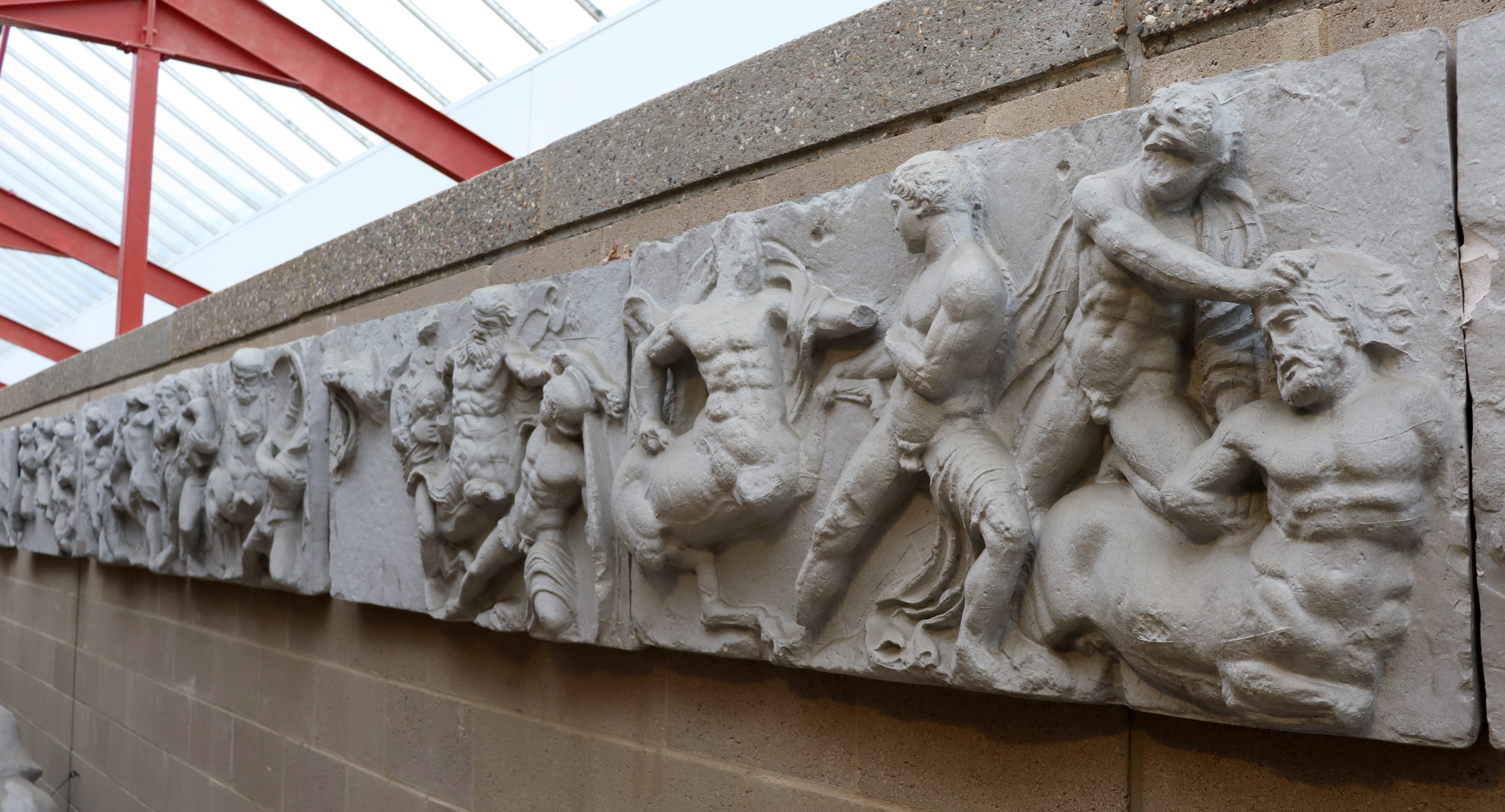 About the project
We are committed to ensuring our casts are preserved for future generations to enjoy and study – and as a result, we are regularly monitoring cracks in the plaster and corrosion in the metal, and embarking on a rolling programme of conservation work.
Plaster is a brittle and soft material, which is prone to damage, breaks and staining. Even touching can make it dirty. Internal metal skeletons and fixings are at risk of corrosion and metal fatigue. In this sense, our casts are more delicate than the originals.
Our casts of the Bassae frieze may not be at risk of touching (although look closely and you might see old handling marks) because they are mounted high up on the wall – but they pose their own challenges. We'll need to build a scaffold to access them, and we'll need to work carefully around the large and immobile casts of the West Pediment from the Temple of Zeus at Olympia beneath them. The new mounting system we'll be using will mean that their weight is carried by a shelf, rather than by mounts in the back of the plaster itself.
Planned dates
Start date: Monday 7 December 2020
Planned end date: Friday 18 December 2021
(This project may extend in January)
Please note: we will be closed for Christmas from 5pm on Friday 18 December 2020 and will reopen (lockdown permitting) at 11am on Tuesday 5 January 2021. We will also be closed on Friday 11 December for essential maintenance work.

Upcoming Activities
Daily Updates
| | |
| --- | --- |
| What: | Keeping you up to date, every day, with pictures, news and videos to show our progress as we remove and conserve the casts |
| When: | Monday 7 December until Friday 18 December 2020 |
| Where: | Online |
| Who: | All ages |
Live Q&A with the Curator, 15th December 2020.
| | |
| --- | --- |
| What: | What difference does repair make to objects? What are the challenges of looking after a cast gallery? Join our Curator, Dr Susanne Turner as she answers some of the most intriguing questions surrounding our Bassae Frieze Conservation Project |
| When: | Tuesday 15 December 2020, 12.30pm |
| Where: | Twitter |
| Who: | All ages |
| Also | Submit your questions prior to the event using this google form or throughout the live using the chat function. |
Conservator's Corner, 11th December 2020. 
| | |
| --- | --- |
| What: | Gain a unique insight into museum conservation and see what challenges we have faced so far. Our Conservation Team explains it all in this short video. Find out more about why the Bassae Frieze needs repairing, what techniques our conservation team is using and what has happened so far. |
| When: | 11th December 13:00 |
| Where: | YouTube  |
| Who: | All ages |
Bassae Children's Activities
Every Monday throughout December a new children's activity will be uploaded to the website! These are perfect for entertaining kids throughout the winter break. Get ready for colouring sheets, making activities and story-writing resources! 
When: Mondays
Where: Check out our Things to do at Home page.
Before and After: The Story of Change, January 2021
See the effects of our efforts in this series of side by side photographs. 
Our plaster casts of the Bassae Frieze
Purchased: 1880 and 1884
Our casts of the Bassae Frieze are about 140 years. They were purchased as the Fitzwilliam Museum prepared to open their brand new Museum of Classical and General Archaeology on Little St Mary's Lane, behind the church - that's us! The Fitzwilliam Museum had decided to create a new museum to take the plaster casts (and other archaeological and ethnographic collections) out of its main galleries, and was investing heavily in expanding the cast collection in the run-up to throwing open the doors on 6 May 1884.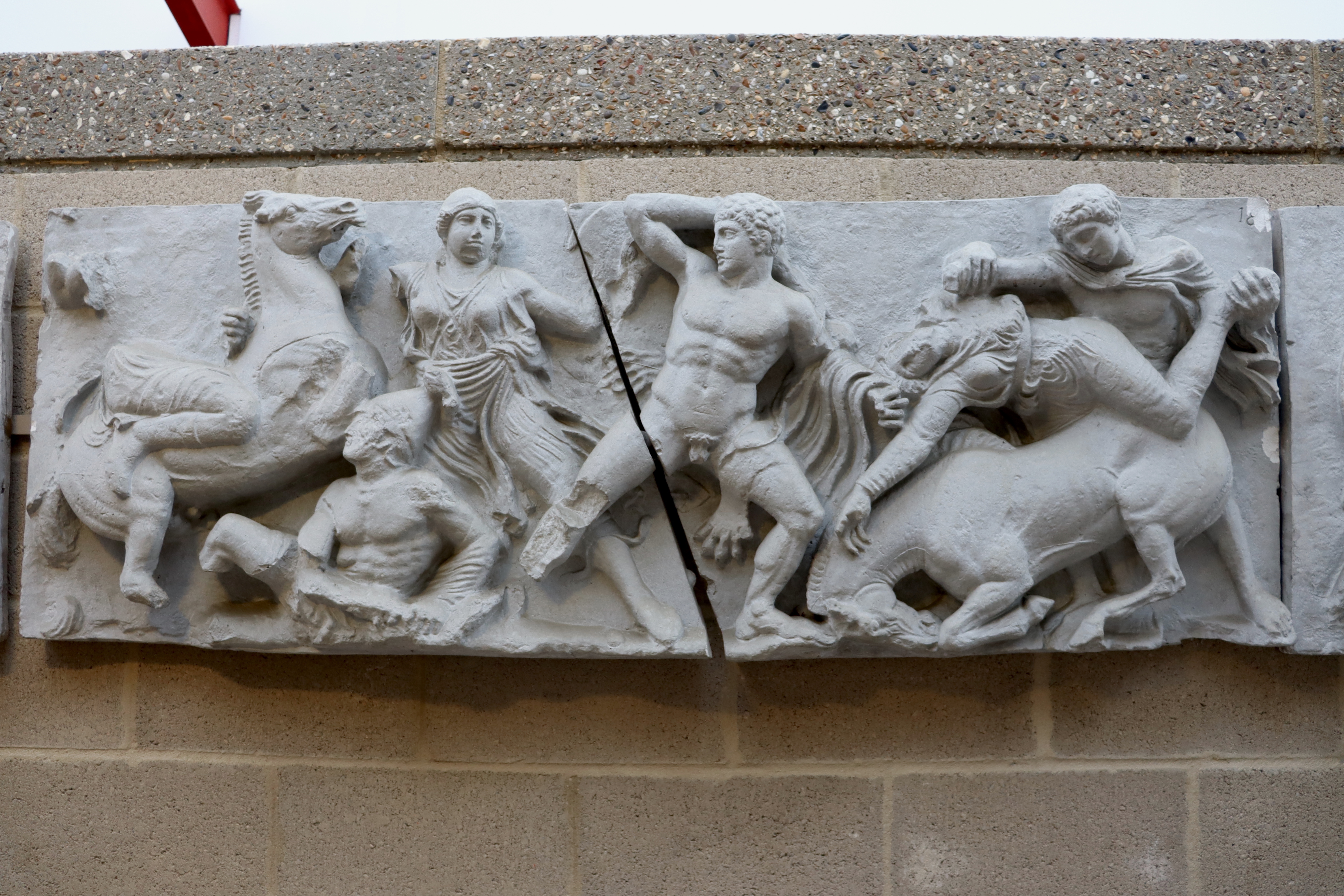 The first ten casts of the Bassae frieze to enter the collection were donated by Henry Sidgwick on 29 May 1880. Yes, that's the same Henry Sidgwick that Sidgwick Avenue, where we are located today, is named after: he was a key figure in the promotion of access to higher education women, and one of the founders of Newnham College. He also donated a number of casts of other objects in the British Museum, including a Discobolos.
Four years later, the Fitzwilliam Museum purchased another six casts of the frieze. They turned to the same supplier as Henry Sidgwick had done: Brucciani & Co in London. Brucciani was the premier plaster cast workshop, or formatore, in London and was the official supplier of casts for the British Museum.
Will we be able to tell the difference between the casts purchased in 1880 and those purchased in 1884? We don't know. Watch this space.
The original Bassae Frieze
Dates: c.450-500 BCE
The Bassae Frieze originally adorned the inside (the cella) of the Temple of Apollo in Phigalea (Greece). Here, Apollo was worshipped as Epikourios, the 'helper' - he seems to have been worshipped in particular by mercenaries, at this hard-to-reach site on a mountain-side.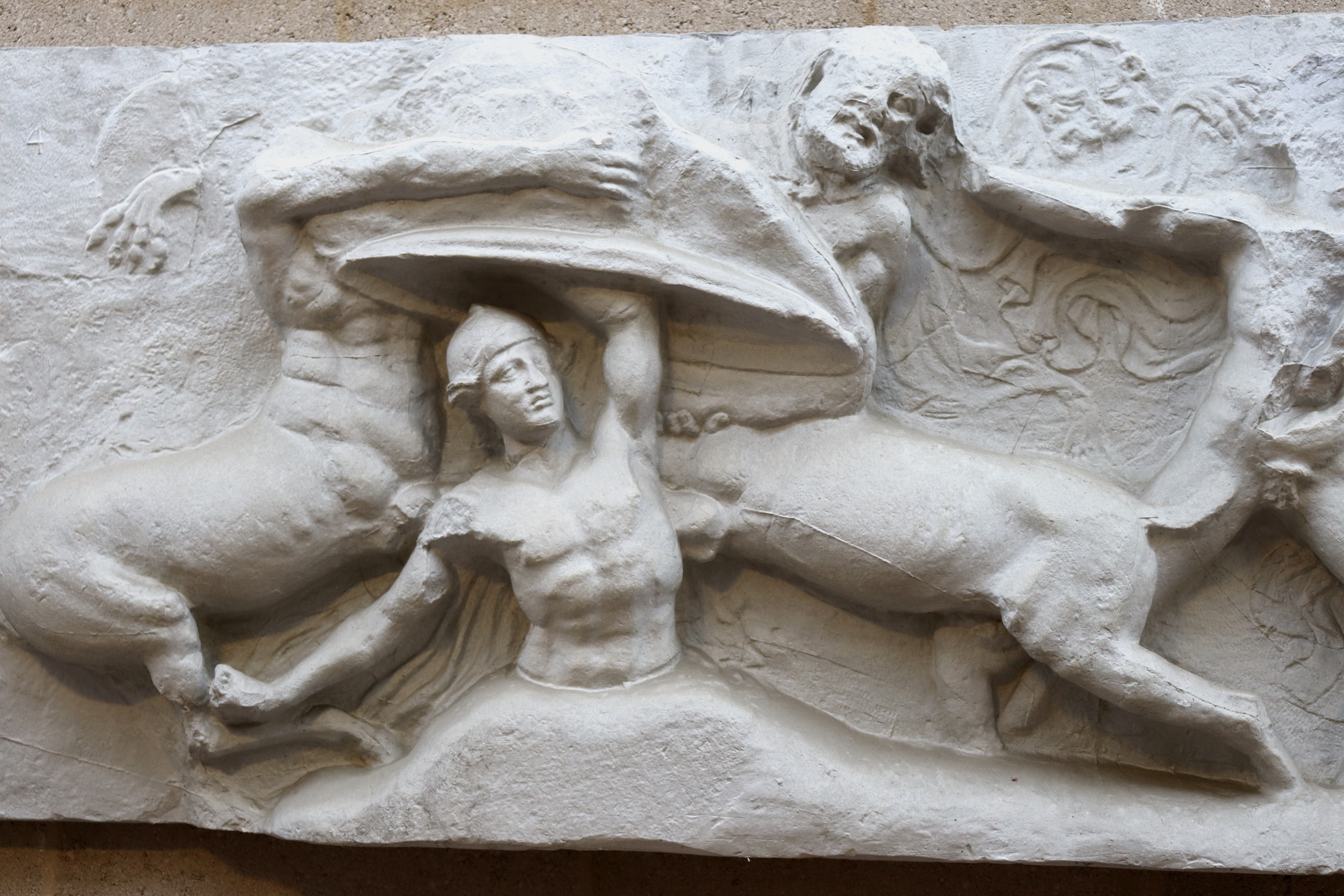 The feature of an internal continuous frieze was an unusual one in a Greek temple: more often, decoration is focused on the outside. The frieze features Amazons fighting Greek heroes called Lapiths and, transitioning seamlessly, Centaurs fighting Greeks. The figures are stout and bulky, packed tightly together in close combat where neither the Greeks nor their foes seem to have the upper hand. Twenty three slabs of the original frieze are held by the British Museum and MOCA has cast of seventeen of them.
There was another seemingly unique feature of this temple, too. The Temple of Apollo at Bassae is the first recorded example of a Corinthian column, the most ornate of the Greek architectural orders. Corinthian columns are crowned with acanthus leaves sprouting from the capital. There was only one such elaborately-decorated columns at Bassae - and in most reconstructions it sits as the focal point at the end of the cella, where the cult statue would normally stand. Sadly, the Corinthian capital from Bassae is now lost.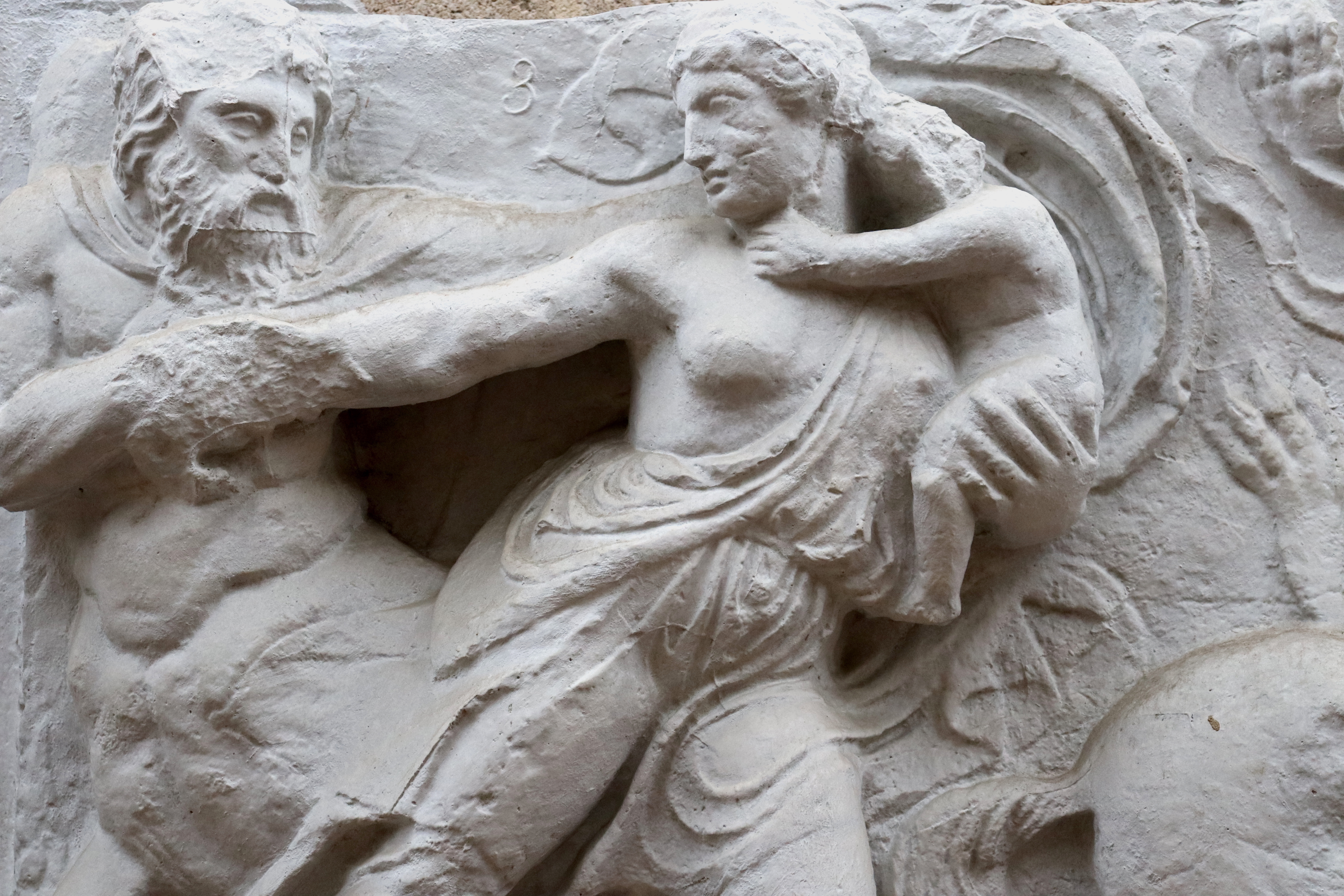 Further Reading