The Cambridge Greek Play for 2019 has been announced.
'We are pleased to announce that the 2019 Cambridge Greek Play will be Sophocles' Oedipus at Colonus, directed by Daniel Goldman. Sophocles' tragedy about the last days of Oedipus, now blind and exiled, is one of the greatest plays about old age, the bearing of life's horror, and the transcendence of the ordinary.
Daniel Goldman is known for his imaginative theatre work in several languages with his Tangram Theatre Company and beyond, and is looking forward to the exciting challenge of staging Sophocles in the original Greek.'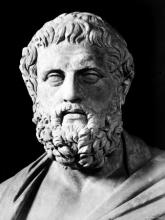 To read more about the Cambridge Greek Play and it's fascinating history, please click HERE.