---
The Corbett Lecture 
Professor Brooke Holmes, Princeton University, will deliver this year's Corbett Lecture in G19 on Thursday October 21 at 5.00 p.m. Her title is "Sympathy and the Problem of Nature".
The Corbett Lecture is an annual lecture by a distinguished scholar on a theme connected with ancient Greece. The list of past Corbett Lectures can be found HERE.
Did you know that we also have a collection of audio recordings of some of the previous Corbett lectures? These can be found HERE. 
The Corbett lectures are open to all members of the University and others who are interested, so please do feel free to come along.
---
Craven Seminar - POSTPONED
The Faculty of Classics is pleased to announce The Craven Seminar, marking the centenary of John Chadwick, one of the pioneers of Mycenaean Studies. The seminar, entitled John Chadwick and the Future of Mycenaean Studies, is hosted by the E Caucus. The preliminary programme is available here. When we have a rescheduled date we will update this information. 
---
J.H. Gray Lectures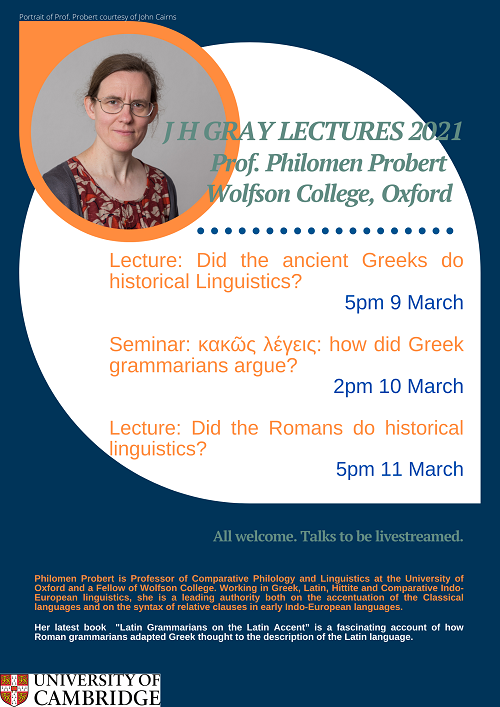 2021 Programme
This year, the J. H. Gray Lectures will be delivered by Prof. Philomena Probert (Wolfson College, Oxford). The Lectures will be livestreamed. Further details will be circulated nearer the time.
Video of lecture given on Tuesday 9th March, 5pm: 
Did the ancient Greeks do historical Linguistics?
A bibliography is available here.
Wednesday 10th March, 2pm: 
κακῶς λέγεις: how did Greek grammarians argue?
The seminar handout is available here
Video of lecture given on Thursday 11th March, 5pm:
Did the Romans do historical linguistics?
The bibliography for the second lecture is available here.
Please register your interest at events@classics.cam.ac.uk.  A link will be sent nearer to the time to those that have registered.
---
The Laurence Seminar
Thursday 3rd - Saturday 5th June 2021
Registration is now open. If you are interested in attending, please contact the organisers by email: tjn28@cam.ac.uk
2021 Programme
Thursday 3rd June
1.00-1.15: 'Registration' (Zoom open)
1.15-1.30: Opening remarks
1.30-2.30: Richard Hunter (Cambridge), 'Who wrote Greek verse inscriptions?' 
2.30-2.40: Short break
2.40-3.40: Barbara Graziosi (Princeton), 'Sappho, networked'
3.40-4.20: Longer break
4.20-5.20: Irene Peirano (Yale), 'Epistolary collaboration in Ovid's Heroides' 
5.20-5.30: Short break
5.30-6.30: Francesca Martelli (UCLA), 'Participation and residual media: the case of Cicero's letter collections' 
6.30: 'Reception' (break-out rooms)
Friday 4th June
11.15-11.30: Zoom open
11.30-12.30: Serafina Cuomo (Durham), 'Ancient mathematics as a collaborative practice'
12.30-1.30: Lunch break
1.30-2.30: Tim Whitmarsh (Cambridge), 'Cephisophon the sympoiētēs' 
2.30-2.40: Short break
2.40-3.40: Markus Hafner (Graz), 'Fathers and sons – and daughters: genealogical co-authorship, offspring metaphors and the language of legitimacy' 
3.40-4.20: Longer break
4.20-5.20: Joe Howley (Columbia), 'An agricultural theory of the enslaved amanuensis' 
5.20-5.30: Short break
5.30-6.30: Rachel Love (Harvard), 'Colluding with the enemy: Caesar, Hirtius, and the dangers of collaboration' 
6.30: 'Pub trip' (break-out rooms)
Saturday 5th June
9.45-10.00: Zoom Open
10.00-11.00: Tom Geue (St Andrews), 'Collaboration and collaborationism in imperial literature' 
11.00-11.10: Short break
11.10-12.10: Frisbee Sheffield (Cambridge), 'Plato and Hannah Arendt on collaboration and the ethics of argument' 
12.10-12.20: Short break
12.20-1.00: Simon Goldhill (Cambridge), Closing remarks